Key events
12th over: South Africa 32-0 (Erwee 20, Elgar 11) Right, ignore my theory about Root/Leach: the former is getting a second over here. I wonder if that was the plan or if Stokes is keeping him on after the former skipper looked a bit of a handful with his first offering of the morning? In at Elgar, he's bowling from very wide of the crease with a slip, a leg slip and a short leg – Bairstow's prowling at short cover too. Good over this too, probing away. Oooh, and there's some sharp turn and bounce! Great work from Elgar not to follow it with his blade and Foakes to glove it. Interesting.
11th over: South Africa 32-0 (Erwee 20, Elgar 11) "Bowling from his own end, it's Jimmy Anderson," says the ground announcer. That was the end where Leach finished last night, bolstering the argument that the Root over was designed to swing the senior spinner around. Anderson starts over the wicket at Erwee and finds his line and length immediately, as you'd expect. With a tiny bit of extra length later in the over the left-hander is happy to carefully drive through cover, timing it well enough to reach the rope but Jack Leach is scampering after it like he's Carl Lewis, dragging it in at the last. A lot to like about his attitude this summer. Speaking of.
"I think the thing about Leach that the new regime (and Stokes in particular) admire most is his mental toughness," says Mark Hooper. "That famous 1 not out has meant Stokes backs him to always stand up when he's needed, which is arguably the most important trait at this level where you're dealing in the 'one per cent difference' or whatever the new buzzword is."
Back to Jimmy, who beats Erwee with one that nips away to finish – nice. "Absolutely no shape," says Jonny Bairstow at the end of the over, so no swing then.
10th over: South Africa 28-0 (Erwee 17, Elgar 11) Root gets one to skid on first up at Erwee and hits him on the pad, prompting an ambitious appeal – not out, no review. It's a handy start, targeting the stumps on that wide angle with his tweakers – he does have 47 Test wickets, remember. Oh, as soon as I type that he gives Erwee a half-volley and he pops it through cover for the first runs of the day, a boundary. "It's also a day that Dean Elgar will relish," says Mark Butcher on telly. Absolutely.
The players are on the field! And it is… Joe Root to bowl the first over of the day! I suspect (I'm certain) this will be a changing-ends thing. PLAY!
"Morning Adam." And to you, Mark Unwin. "Currently on the train on the way to Old Trafford with two 10-year olds going to their first Test match… Plenty of snacks, drinks, tech & money on hand for when they get bored… let's see how long we last."
Brilliant! Hope it is a special day for them and you. My first day at a Test Match was the fourth day at Melbourne, 1994-95 – the day before Warney's Ashes hat-trick. David Boon completed his 20th Test ton before Damien Fleming bowled the house down before stumps, including this absolute beauty. I'm up to 137 Tests now, should hit 150 during next year's Ashes if all goes to plan. Yes, that's a horrible brag.
"A big day for Jack Leach?" asks Gary Naylor. "Take out his twin fivefers against New Zealand at Headingley, and he's only taken eight wickets since the middle of May. I think he needs more variation in order to create more chances on decent pitches. Now's his chance to show it."
Morning, Gaz. I'm reluctant to #RootMaths (google it) him by excluding the ten at Yorkshire – that was an outstanding performance under enormous pressure. I can only speak for the radio commentary team I was working on for that series, but we pretty much all sacked him after Nottingham and we were wrong to do so.
There was a beautiful interview with him before this series, a couple of weeks ago with Felix White. The key passage in here is Leach now believing – or being, over time, forced by the new leadership axis to believe – that his ceiling is higher than he previously ever thought it to be in the previous regime. For someone without any natural bravado, my sense is that is quite a big deal. I'm backing him in today.
"Morning Adam," tweets Harry Lang. "Can't wait for today's action. I'm on a boat somewhere off Lefkada in Greece. That is really the only motive behind this missive. Cheers for the updates!" As you do! Enjoy your holiday.
Wrapping up the coverage from yesterday, here's Tanya Aldred's write up of Ben Foakes' comments when speaking to the press after his unbeaten 113.
Barney is up at Manchester too. One eye on the middle, the other on the balcony.
There was even time for a wonderful tableau on the England balcony: Stokes in Lennon-shades, hair swept back, sipping unbranded water; Brendon McCullum next to him, all beards and shades and guns, hundred in the bank, game tipping their way, Stuart Broad, in sleeveless singlet also loitering (yes, Stuart, we see you), basking in the late afternoon sun.
We have an early weather update from Ian Thompson. "Morning Adam. The forecast for Manchester is sunny intervals, a high of 21 and little chance of rain. Looks like a full days cricket." Outstanding news. Looks great on telly. A tad muggy, perhaps.
"I am utterly disgusted!" roars Tim Maitland in Hong Kong to opening the bowling as far as today's correspondence is concerned. "Outraged! I have searched the entire interweb and it seems no-one has taken the golden opportunity provided by yesterday's two centuries to shoehorn in a headline of DIFFERENT STOKES FOR DIFFERENT FOAKES. I will be making an official complaint."
By contrast to the 2019 World Cup Final, when I reckon six national newspapers went Champagne Super Over on the back (or front) page. Happy times.
Ben Stokes is talking to Nick Knight on Sky. "We are in a strong position and we can't wait to get the ball in our hands. We've earned the right to be quite demanding today." Gives a lot of love to Ben Foakes. "I'm absolutely chuffed for him. He's the best wicketkeeper in the world and he's shown what he can do with the bat." On the style of play, explains that he wants to set the example with his own positive approach. Talks up their chances of getting the ball reversing today after what the South Africans were able to do in the first session yesterday on the dry Old Trafford square. Adds that he sees a big role for Jack Leach – he clearly backs his spinner.
Preamble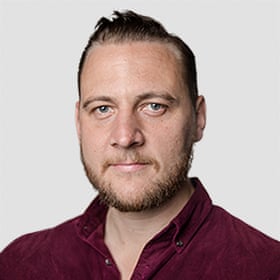 Adam Collins
Morning! Lovely where I am in London, hopefully the same in Manchester in Test where England have taken the honours, comprehensively, over the first two days.
As if it were foretold on the day his documentary was released, Ben Stokes slotted his 12th Test ton and first since taking over as skipper. Combining with Ben Foakes for a 173-run stand for the sixth wicket, they took the hosts from the red to a lead that looks massive in the context of this low-scoring series. For Foakes' part, he saluted for a second Test century and his first since debut way back in 2018. He finished with a fantastic, unbeaten 113 by the time England declared 264 ahead at 415-9.
The Proteas had nine overs to deal with in their second dig and made it through unscathed, set to resume this morning on 23 without loss. It is stating the obvious that Dean Elgar and his crew will need to bat all of today, and probably half of tomorrow, if they are to give their very capable bowling group something meaningful to work with in the fourth innings. If they can, good luck to them.
But the pitch has noticeably slowed down from the surface the England seamers so enjoyed on the first day. If the South African openers can get through the first spells of Anderson, Robinson and Broad this won't be a lost cause quite yet. On the other hand, early wickets could lead us down the path of a second three-day finish on the trot. And nobody wants that on a bank holiday weekend – right?
Okay, I'm going to grab a coffee, then I look forward to your company. You know the drill: drop me a line, fire me off a tweet. If you're up for a slightly longer recap of yesterday's events, here I am with the BBC's Daniel Norcross – him at the ground, me in my backyard. And while you're listening to that, here's Ali Martin's match report.